Here are some photos of one of my projects I have been working on a little bit here and there.
This is a 1975 Harley Davidson Sportster otherwise known as an ''Ironhead'' because of it's cast iron cylinder heads. It was in worse shape when I got it. I had the cylinders honed, valve job, new rings and gaskets. I cleaned the engine thoroughly. The cam side cover was replaced because a couple of cam bushings were worn from rotating in the housing. I'm currently working on getting it wired. There will still be few other things left to do. ....Update! Wiring is done for now. The engine starts and runs and the lights work properly!
---
View all photos as a Slideshow
(opens in new window)
Pictures are in reverse order
---
Finished the wiring!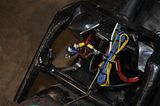 ---
Time for the wiring!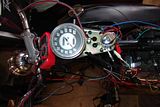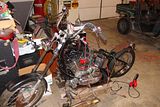 ---