And now Introducing my new project!
1963 Corvette Split Window Coupe!!!!!
---
Here is a Photo I took in 1985 of the same 1963 Corvette before it went into storage!
340 Hp 327, 4 Speed, Positraction, Power windows, Originally Sebring Silver Paint.
This truly is a "I found it in a barn" type of story.
Can you locate the 1963 Stingray Split Window Coupe in this Photo?
OK, Here is your 2nd chance.
1st Photos of Vette as it rolled out of storage after 15 years! 63' Stingray on Chris Turner's bad assed custom flatbed.
This is the way to really see what is going on with your car.
I had to get rid of the slot mags. Here is a photo showing the new rally wheels and tires. Also, this is what the paint started to look like after a trip to the car wash. Almost all of the paint is now stripped off.
I almost forgot to include a photo of the engine!
After a total engine rebuild:
Induction is now handled by an Edelbrock 1405 Carb and vintage Edelbrock C3B Manifold. The ignition is now all MSD, Pro-Billet Tach drive distributer, MSD 6AL ignition box, MSD Super Conductor wires and HEI Style Cap-Adapt and Blaster Coil.
An "in the air" shot of the new custom 2 1/2" exhaust into series 40 Flowmaster mufflers.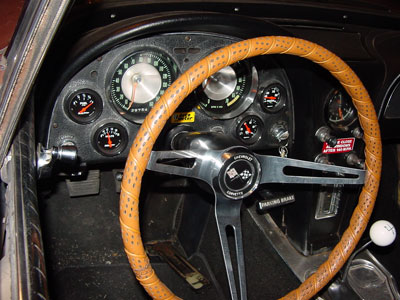 I replaced the non functional small gauges with AutoMeter "Z-Series 2 1/16" units.
I have kept everything that I have taken off of this car.
This is pretty much what the car looks like now.